IT-Enterprise presented solutions at the XVII Forum of Financial Directors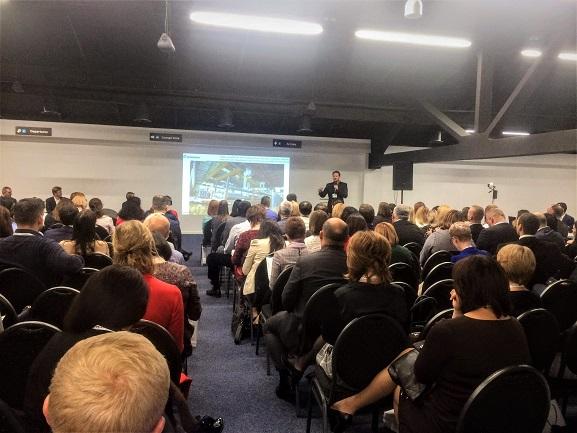 Ruslan Nazarenko, IT-Enterprise project manager, spoke at the XVII Forum of Financial Directors with a presentation on the topic "Digital transformation – the acceleration of corporate efficiency".
The Forum of Financial Directors is an event that brought together more than 500 financial managers of Ukrainian enterprises. For more than 16 years, specialists from leading enterprises come together to exchange experience and discuss best practices.
"The reality of today is the rapid development of innovative technologies for managing information and business processes of enterprises. This is the epoch of the fourth industrial revolution and this period is a turning point for Ukraine. During the post-Soviet evolution, Ukrainian business shows too much prejudice about innovation, the "grandfather's approaches" of management still prevail in the territory of our Motherland. This is a very dangerous situation in terms of the survival and strengthening the Ukrainian economy", – Ruslan Nazarenko, IT-Enterprise project manager.
Increasing the profitability of enterprises with the help of new technologies was one of the main issues of the Forum this year. In his speech, Ruslan Nazarenko focused on the importance of investing in Industry 4.0 technology today.
IT-Enterprise cooperates with the largest entrepreneurs of Ukraine, who are introducing advanced business management trends. The importance of introducing innovative technologies is proved by real cases at Ukrainian enterprises represented by the company at the Forum of Financial Directors.