MASTER:Document circulation – a software product for maintaining internal document management in the public sector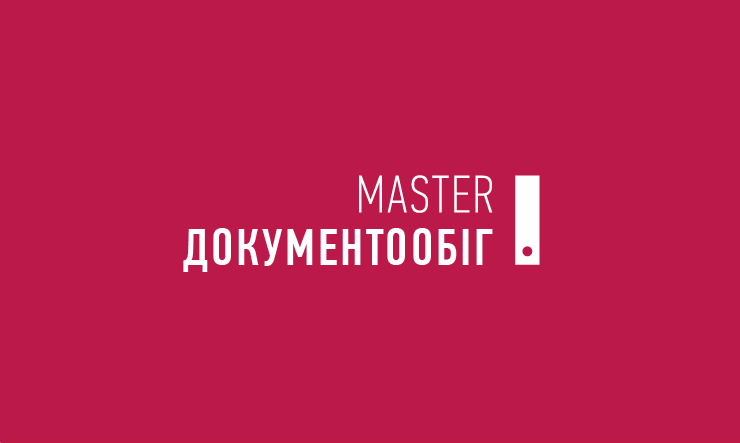 MASTER: Document circulation provides for work with all types of documents used in state structures: incoming, outgoing, service, organizational and administrative documents; appeals of citizens, public inquiries, etc.
The solution fully automates the processing, creation, coordination, and correction of documents, control of the tasks set.
MASTER: Document circulation is a basic set of functions necessary for state institutions, allowing solving tasks related to working with documents, citizens' appeals, public inquiries, EDS, barcodes, etc.
MASTER: Document circulation is designed specifically for the Ukrainian market. The program was developed by programmers with many years of experience in implementing IT solutions at Ukrainian enterprises in collaboration with experienced accountants.
THE COMPOSITION OF THE PROGRAM PRODUCT
DOCUMENT CIRCULATION module
– SMART MANAGER – tasks and documents; under control; business processes under control.
– ANALYTICS – analysis of business processes.
– DOCUMENT REGISTRY – registry transfer of originals.
– CMEA – CMEA. incoming documents; CMEA. outgoing documents; CMEA. packet exchange log.
– INTEGRATION WITH EXTERNAL SYSTEMS – types of integration; web service. Credentials for incoming connections.
– REFERENCE BOOKS – types of documents; types of original documents; topics of documents; types of control; types of delivery; task types; task folders; lists of performers; auxiliary performers; document link types.
– SETTINGS – setting up access to the original documents; menu settings.
REFERENCE BOOKS module – products and services; documents; reference books; reports, settings, other.
ADMINISTRATION module – users; options; main menu; base; task manager; uploading maintenance logs; license management; backup; RRT methods; application code libraries; kits; configuration management; work instructions; HTML content management; constructors, adjustments ledger.
The following features are implemented in the software product:
INCOMING, OUTGOING, SERVICE, ORGANIZATIONAL AND DISTRIBUTIVE DOCUMENTS
APPEALS OF CITIZENS
PUBLIC INQUIRIES
FLOW SCANNING DOCUMENTS
BARCODING
APPLICATION OF DIGITAL SIGNATURE (OF ALL ACCREDITED KCC) ON DIFFERENT MEDIA INCLUDING FILE ONES
INTEGRATED CRYPTOGRAPHIC MEANS OF KCC (IMT)
COLLECTIVE WORK WITH DOCUMENTS/TASKS
AGREEMENT (VISIZATION) OF DOCUMENTS
READING DOCUMENTS
VERSION
DOCUMENT TEMPLATES
REATION AND STORAGE OF DOCUMENTS WITH THE INVESTMENTS OF VARIOUS FORMATS
CREATING LINKS BETWEEN DOCUMENTS
RESOLUTIONS (OBJECTIVES) TO THE DOCUMENT
WORK WITH TASKS
HANDLING DOCUMENTS/TASKS AT THE LEVEL OF THE ASSISTANT MANAGER (EXECUTOR)
CONTROL OF THE EXECUTIVE DISCIPLINE (CENTRALIZED)
CONTROL OF THE IMPLEMENTATION OF THE TASKS/DOCUMENTS BY SUBORDINATES AT THE LEADER'S LEVEL
MONITORING PROBLEMS/DOCUMENTS BY SUBORDINATES
CONTROL OF IMPLEMENTATION OF TASKS/DOCUMENTS AT EXECUTOR LEVEL
DOCUMENT HISTORY (FULL LIFE CYCLE OF THE DOCUMENT)
VISUALIZATION OF THE ROUTE TO FOLLOW
REMINDER (IN SYSTEM)
MESSAGE (IN SYSTEM)
DOCUMENTS SEARCH
REPORTING AND PRINTING FORMS
DELEGATION OF RIGHTS AND POWERS
RESEARCH INSTITUTES
ADJUSTMENTS LEDGERS
ADJUSTMENT OF RULES FOR ACCOUNTING DOCUMENTS IN A DOCUMENT TYPES LIGHT
TEMPLATES OF BUSINESS PROCESSES AND PROCESS STAGES
FLEXIBLE ACCESS SETTING RULES
ADMINISTRATION
The software product provides separate additional options in the specialized section of the MASTER application store, where the following functional extensions are available:
MASTER: Electronic archive
MASTER: Register of documents
MASTER: Contracts
MASTER: Exchange with SE/affiliates
MASTER: Processes under control
MASTER: Analytics
MASTER: Integration with e-mail
MASTER: Integration with CEI
MASTER: Integration with the website
MASTER: Plag-in (e-mail, MS Word)
MASTER: SmartManager mobile application
MASTER: SmartTasks mobile application
MASTER: Planning staff loading
MASTER: SLA business processes
MASTER: Runtime accounting
MASTER: Resolution templates
MASTER: Executors templates
MASTER: Regulatory acts
MASTER: Working with arbitrary tasks
MASTER: Performance control
MASTER: Discussion (chat)
The MASTER: Document circulation software product for the public sector and the MASTER:Accounting software product for budgetary institutions have common Reference books "Contracts" and "Counterparties", which provides a complete account of the activities of budgetary and state structures in consolidated accounting.
To order MASTER:Document circulation, go to the software product page and fill out the order form or contact the MASTER Solutions Sales Team, tel.: +38 (044) 333 444 7 or email: support@masterbuh.com
For technical questions, please contact the MASTER Support Center, tel.: +38 (044) 333 444 7 or email: sales@masterbuh.com
For partner sales, please contact our Partner Relationship Team, tel: +38 (044) 333 444 7 or email: partners@masterbuh.com