IT-Enterprise marks 35th anniversary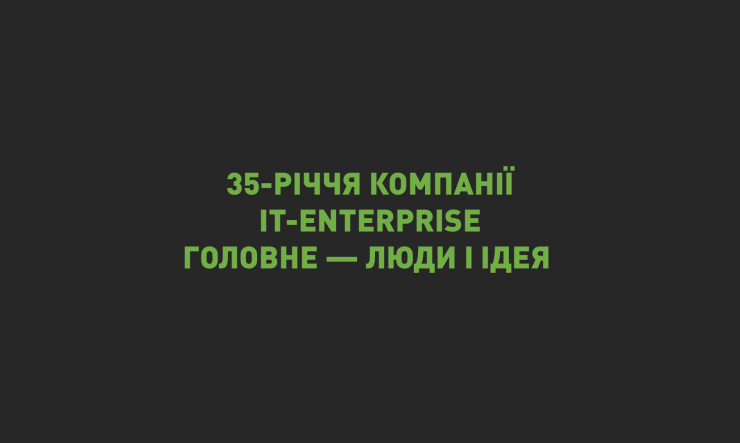 The Ukraine product company IT-Enterprise has reached its 35th anniversary. The founder and CEO Oleg Shcherbatenko says that the initial intention was to celebrate the milestone with a series of major events and publish photos and stories from the company's archive. Yet the full-scale invasion of Ukraine shaped a new reality and made the team revisit all previous plans.
"However, no one can take our history away from us. Since our company was born in 1987, we have evolved as much as information technology itself. From mainframe development and display operator classes, we have gone all the way to cutting-edge microservice solutions for much more powerful computers and smartphones, and we are moving further on with AI," comments Oleg Shcherbatenko.
The founder believes that in the past 35 years, the two pillars of the company have been its People and Ideas. Once a small like-minded team, IT-Enterprise has grown into a modern corporation and won the trust of the biggest companies in Ukraine.

"I am deeply grateful to each colleague, every partner – all the people who were there and remain with us, contributing to our common cause in these turbulent times. Together with Ukraine, our team is being tried for resilience and willpower, and we are set to accomplish this trial with a decisive victory. Today, more than ever before, I can see how innovations can help people, save lives, reduce losses and win battles. That is why our beliefs and a sense of meaningfulness intertwined with our work give us the power to act."

According to Oleg Shcherbatenko, now the IT-Enterprise team aims for the same vital goal: invest all possible resources to achieve peace and victory for Ukraine. The anniversary events are not canceled but postponed until the war ends.
IT-Enterprise continues the second stage of ERP implementation at Ukrposhta. Since the beginning of the full-scale war, the Ukrainian product company has delivered a number of critical infrastructure projects together with Ukrzaliznytsia. Now it is working on digitizing business processes at Ukrainian and foreign companies, ensuring higher efficiency and resilience in the context of wartime.