IT-Enterprise presents new 2023 version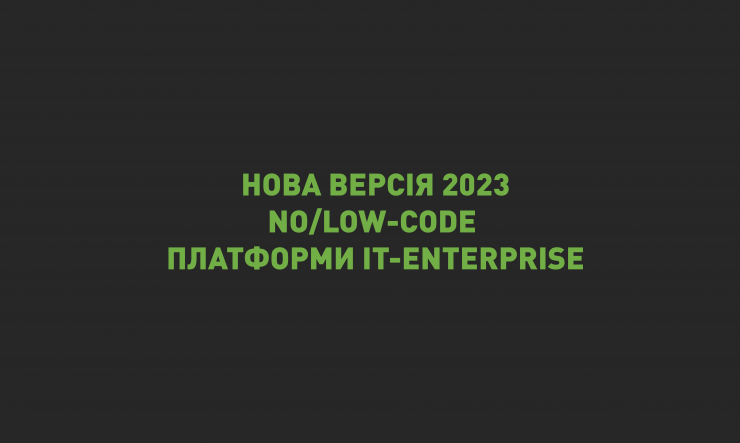 In late October, the IT-Enterprise team organized its annual online forum Version 2023 — Digital Transformation Core. Because of the full-scale war in Ukraine, which has already lasted over 250 days, this year's event had its own specifics, says Oleg Shcherbatenko, the company founder and CEO.
"Preparing for such an event in wartime was quite a tough task for our team. Nevertheless, two things were vital: present the key updates to our partners and customers, and keep our commitment to making the Forum an annual event, maintaining the exemplary pace. One particular challenge was posed by the power outages, so electric generators were a must to make the Forum happen. Also, we went to great lengths to ensure our team's safety in the current conditions. Now that the event is over, it has certainly become another proof of our ability to find the right solutions in any situation and continue our work".
During his presentation, the IT-Enterprise founder made a particular focus on the Industry 4.0 solutions proving effective in the full-scale war context. Indeed, they played a decisive role in helping Ukrainian companies mitigate the aftermath of warfare and resume operations in the new reality of today.
The main streams of the Forum were the top developments and updates of the no/low-code platform IT-Enterprise 2023 and the economic effect of digital transformation for businesses and Ukraine's economy as a whole.
Among the essentials and highlights of digital transformation projects for enterprises and companies are:
Digital processes with qualified electronic signatures (QES), including Diia Signature​;

Logistics management​;

Financial management. E-Treasury​;

Financial management. Budgeting​;

HR management. Portals for employees;

Efficient custom order production​.
​In their online presentations, the R&D team members outlined the key additions to the no/low-code platform IT-Enterprise 2023:
New challenges. Why switch to IT-Enterprise 2023.

Case studies: financial management tools.

Case studies: business process management with Force BPM.

ІТ-Еnterprise, the modern No-code/Low-code platform.

HR digital transformation tools.

CRM: new capabilities and features.

Industry 4.0 tools for higher efficiency and entering global markets.

Innovative tools for equipment maintenance. Energy AI and predictive maintenance with Anna Maly.

MASTER accounting platform. Migrating from 1C to a state-of-the-art solution.

External audit tools for organizations.
The event covered clients' experience and practices of digital optimization of business processes during relocation, rebuilding supply chains, etc. For instance, the speakers shared a number of case studies from leading companies: the nationwide infrastructure operators Ukrposhta and Ukrzaliznytsia, the National Agency on Corruption Prevention, Continental Farmers Group, COMFY retain chain, and others.
The video record of Version 2023 is available at the link.