IT-Enterprise becomes Intellectual partner of 20th Anniversary CFO Forum 2021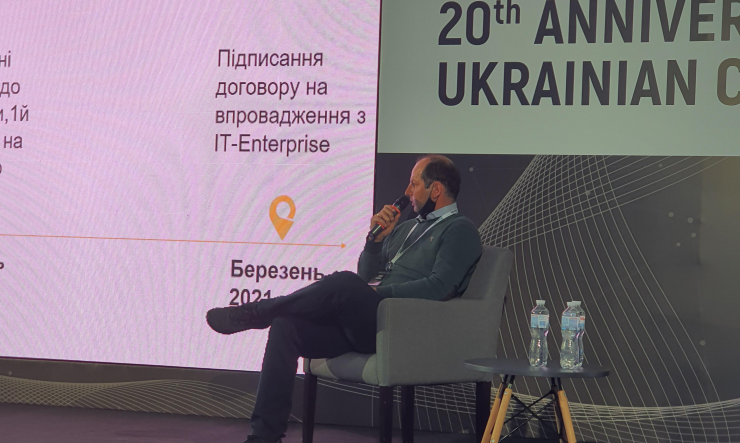 It is worth mentioning that IT-Enterprise has been the Forum's Partner for years and supports the initiative with presentations to make its own experience and case studies available to the attendees. This year, as a digital transformation leader, IT-Enterprise was the key partner and the only Intellectual Partner of the event.
Maksym Palii, Deputy CEO for Finance at Ukrposhta, unveiled the first successful outcomes of the company's collaboration with IT-Enterprise. He highlighted the unprecedented speed of implementing Ukrposhta's digital transformation project. Indeed, it took only 4 months after signing the agreement with IT-Enterprise to commission the unified information system with full basic functionality at the central office and the largest Kyiv regional branch. Since August 2021, about 6,000 users can already work following the end-to end business processes that previously were disconnected or lacked automation. Procurement, treasury, sales, accounting and e-document flow are now operating in the centralized management system.
"Full automation of company processes is our major goal for the year to come. In this period, we'll need to unify various disintegrated systems, introduce e-document flow and one-click reporting for our employees. Moreover, we intend to lay the foundation for integrating a new front-office system, CRM, tracking, sorting, and other core systems. We expect that in the end, all these activities will allow us to achieve a significant reduction in customer delivery time in our branches and abandon unnecessary paperwork for good even in the most remote parts of the country," highlights Maksym Palii.
Furthermore, Serhii Maksymenko, Head of Finance and Budgeting at IT-Enterprise, shared success stories of treasury management at large companies: ROSHEN, INTERPIPE, Ukrnafta (oil industry), Ukraviaservice and Ukrposhta (post service).
The purpose of the presentation was to provide detailed information on the benefits of using a centralized ERP system from IT-Enterprise. To illustrate them, the speaker referred to several case studies on effective digital transformation for large corporate clients.
According to Mr. Maksymenko, there are numerous benefits to financial management with IT-Enterprise, namely:
Vast experience in digital transformation in terms of treasury centralization for large corporations: Ukrposhta, Ukrnafta, Kovalska Group, ROSHEN, INTERPIPE and others;
Smooth integration of treasury management into the end-to end process with such functional parts as budgeting, procurement management, sales and contractual activities management, as well as accounting;
Auto-generated payment & income schedules, compliance control for contract terms;
A payment factory as a unified center for payment coordination and balancing among all business units of the corporation;
Liquidity management tools help to create payment calendars with an arbitrary planning horizon, control and model cash deficiency scenarios and manage the process for their elimination to decrease financial risks.
"IT-Enterprise Treasury is not just a standalone module. It is closely connected to other areas and processes, such as procurement, sales, contractual activities, or accounting. To get the maximum synergy effect from software implementation, you need a deep understanding of all the mutual interactions between the business processes. They all have to be links of a logically built chain," comments Serhii Maksymenko.
The main objective of the Forum is to exchange experience and seek the most effective digital solutions for business process optimization, resulting, in the first place, in profitability growth for companies.