Center 4.0 opened at Kyiv Polytechnic Institute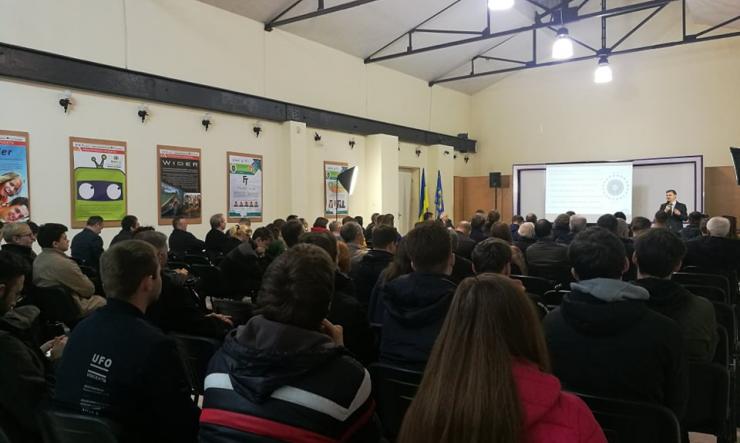 The development of the Centers 4.0 network is part of the Industry 4.0 national strategy projects. Such Centers are the main tool for the development of an innovative ecosystem of industrial high-tech. Two regional centers opened in Ukraine in 2018, in Kharkiv and Odessa. Center 4.0 at Kyiv Polytechnic Institute received the national status.
Pro-rector of Kyiv Polytechnic Institute Mykhailo Ilchenko, member of the Academy of Sciences of Ukraine, made an opening speech. Representatives of High-Tech Office Ukraine and the Ministry of Education and Science also greeted the participants. During the opening, a Memorandum of Cooperation was signed between APPAU and Kyiv Polytechnic Institute.
Oleh Shcherbatenko, IT-Enterprise CEO and Chairman of the Board at APPAU spoke about the prospects and challenges in the development of industrial high-tech companies, the need for new skills among the human resources and close cooperation with educational institutions for the country to develop. Oleh Shcherbatenko emphasized that IT-Enterprise is ready to give universities a list of tasks, to teach students and to enable young people to use its solutions in real enterprises.
Kyrylo Kostanetskyi, SmartEAM Project Manager, shared his experience in implementing technology 4.0 for predictive equipment maintenance.
Full production automation, where all processes are managed online, taking into account the variability of external factors, is an imperative of our time. Cyber-physical systems are capable of being integrated into one network, self-adjusting and self-learning, making virtual copies of objects, controlling physical processes and making decentralized decisions. This helps to optimize production costs, execute orders on time and become more customer-oriented, which is a key to gaining a competitive edge in the Industry 4.0 era.
Phoenix Contract and IT-Enterprise became general partners of the event.